Press
Himeji Japan 22/March/2019


Yutaka Nakata, Artistic director of DIEM company got a price from Himeji city, Japan.
Honorable certificate of "Himeji Art and Culture Price"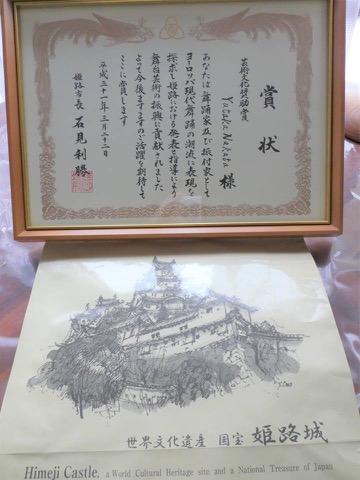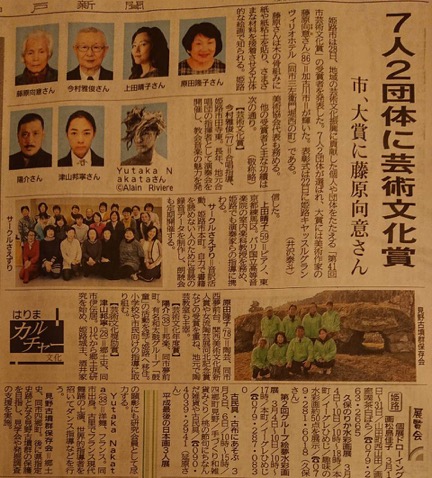 Aurillac 15/May/2014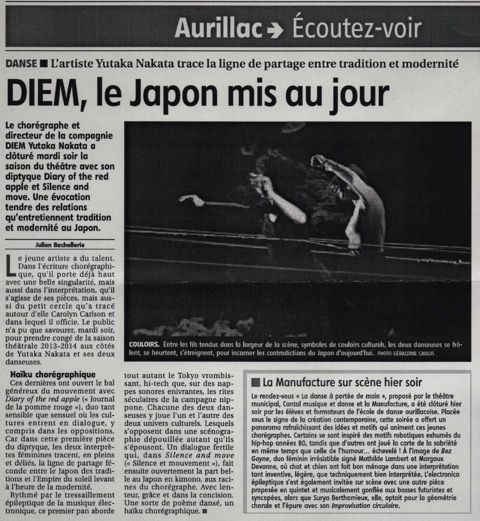 ____________________________
AUVERGNE > CANTAL > AURILLAC 08/12/11
The young choreographer and dancer has, with his "
Terminus
", incarnated a refined fresco duo, poetic and unique. The real surprise of this evening. « The journey continues for real until the Terminus. Completely unexpected, the young choreographer Yutaka Nakata, brings us all into a world where the movement is the main topic, a reinvented present. Into a dance universe with extremely original codes, without falling into the overseen abstraction, the artiste and dancer used poetry with brio, lightness and innovation. From one side to another of an ephemeral line made of paper, Yutaka Nakata and his partner transfigure an urban space with a carnal jingle, alive and loosen. Here, we let go and the public is attentive and tied. Happiness, but especially an important and convincing discovery with a choreographic composition of today, already mature.
____________________________
ARTOIS COMM
« C'est un nouveau style de danse, on n'en fait pas ici, à Divion (au club local). Ils nous ont tout expliqué, comment ils en sont arrivés là, etc. »

La seconde est une œuvre de Yutaka Nakata, qui a pris corps à Divion et Wambrechies début février. Au final, un spectacle accessible à tous, permettant un réel dialogue entre artistes et public, et qui est proposé aux communes pour un prix très attractif.
____________________________
L'AVENIR DE L'ARTOIS
Yutaka Nakata a interprété "
Dormivegla
", un solo sur le thème du sommeil. Puis le trio a joué "
Poivre, sale ou Sucre?
", une pièce de Yutaka Nakata autour du conditionnement et de l'alchimie subtile de la cuisine des sentiments. Ce spectacle, qui mêle technicité, grâce et fluidité des mouvements, a enchanté le public. Les trois artistes ont été longuement applaudis à la fin de la représentation. Après quelques minutes de repos, les danseurs sont revenus sur scène pour répondre, avec simplicité, aux questions du public et pour expliquer leur passion pour la danse contemporaine.
____________________________
FRESNOY-MACKELLERIE
Un minutieux dosage, une « alchimie subtile ». Par cette parabole culinaire, les mamans ne verront plus la « cuisine » de la même manière, à moins que ne soit les sentiments ?
____________________________
LE PHARE DUNKERQUOIS
La deuxième partie était consacrée à une chorégraphie de Yutaka Nakata, qui portait sur l'alimentaire,"
Poivre, sale ou Sucre?
" La cuisine des sentiments à travers la danse, a été interprétée par deux femmes, Céline Maufroid et Chinatsu Kosakatani, qui finissent par confondre le sel et le sucre, se disputent et finissent arrosées par de l'eau glacée à cause d'un pichet d'eau malencontreusement posé. Une deuxième partie qui a plu particulièrement aux enfants. Les danseurs sont ensuite venus s'exprimer sur le devant de la scène, entamant une discussion avec les spectateurs, et répondant aux nombreuses questions

____________________________